Rare Madagascar Rosewood with Solid Thermal Top
The Takamine EF75M TT acoustic-electric guitar takes the legendary EF75S, upgrades it with solid Madagascar rosewood back and sides, and adds a heat-treated solid spruce top. Expect zesty highs, deep lows, and ample dynamic range when you play this guitar, along with rich sustain and complex overtones. The EF75M TT's OM body rewards you with stunning detail and articulation, in addition to solid-sounding lows that lend power to any style. With its eye-catching abalone purfling and flame maple binding, this guitar attracts a lot of attention. A discretely placed LTD-2 line driver preamp makes the Takamine EF75M TT acoustic-electric guitar a worthy onstage companion.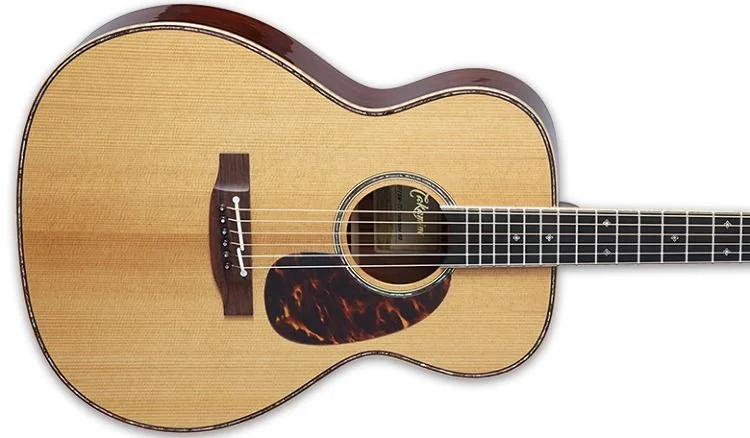 Thermal Top technology serves up real vintage performance
Thanks to Takamine's Thermal Top technology, the EF75M TT looks, feels, and sounds like a vintage guitar. To achieve this, the EF75M TT's solid spruce top was baked in a controlled high-heat, low-oxygen environment. The EF75M TT provides you with the magical experience of a vintage guitar in a brand-new instrument.
OM body provides a bold, resonant tone
The Takamine EF75M TT 6-string acoustic-electric guitar's OM body design projects the detail of your playing style, while remaining powerful and full in the lower frequencies. The guitar's narrower waist places a lot of the guitar's sonic signature in the mid frequencies. At Sweetwater, this has made OM bodies very popular among fingerstyle players — the feel and articulation are vital to their performance.
TLD-2 preamp delivers natural acoustic tone onstage
The Takamine EF75M TT features an LTD-2 line driver preamp, which consists of a simple circuit that buffers the pickup and boosts your signal. This prevents the sonic degradation that frequently occurs with long cable runs. This discretely mounted preamp is virtually invisible, with no outward sign of onboard electronics. Combined with a Palathetic pickup, the LTD-2 sounds phenomenal with no tweaking; however, three small controls for bass, mid, and treble are accessible by removing the guitar's input jack. The organic transparency of this preamp is astounding.